One of the questions we are most frequently asked by patients when they come to our office is whether to use a manual toothbrush or an electric toothbrush.
It has been proven that using an electric toothbrush with a round brush head and 3D movement helps reduce dental plaque by up to 25%. However, the brushing technique is different when using a manual toothbrush or an electric toothbrush. And continuing to use it as if it were a manual significantly reduces its effectiveness in plaque control.
Another advantage of electric toothbrushes is the pressure control. For patients who brush too hard, the incorporation of a red light on the back of the brush handle helps to avoid excessive force during brushing. Thus, gingival recession or tooth enamel wear due to brushing is prevented.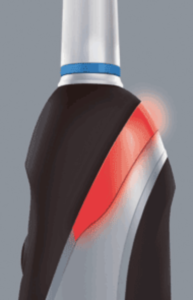 In addition to the toothbrush, it is very important to use hygiene instruments that clean the areas between the teeth, such as dental floss or interproximal brushes. It is especially in these areas where plaque tends to accumulate and where bone loss begins in patients with periodontitis.
At Clínica Noguerol we can advise you on which toothbrush is best suited to you and explain how to get the most out of an electric toothbrush.