Peri-implantitis is an infectious disease that occurs in the tissues surrounding the implant. It could be compared to periodontitis (pyorrhea) suffered by the teeth but around the implants.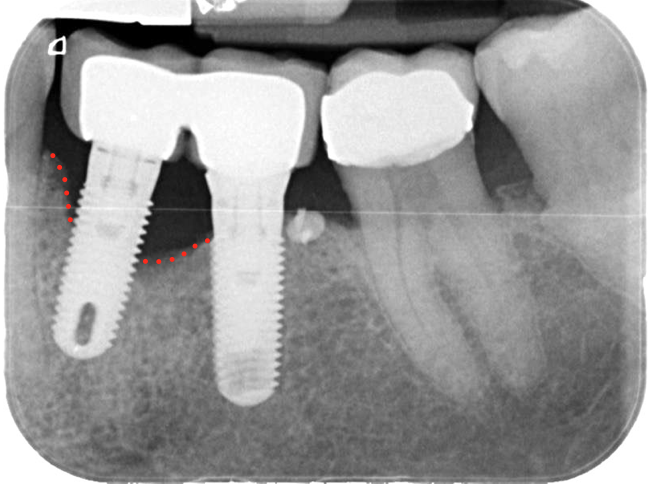 Causes of peri-implantitis
The main risk factors for developing are:
History of periodontitis: patients with uncontrolled periodontitis are more prone.
Tobacco
Poor hygiene
Failure to keep maintenance appointments
Other affecting factors are poorly controlled diabetes or poor design of the prosthesis that is screwed to the implant.
How is it prevented?
The best treatment for peri-implantitis is prevention. Peri-implantitis is prevented by maintaining a correct oral hygiene and an exhaustive compliance with the maintenance appointments. Bone levels around the implant are monitored during maintenance visits. We will also be able to check if the surrounding gum is inflamed.
Is it possible to treat it?
Yes, the goal of the treatment is to stop bone loss and reduce gum inflammation.
The treatment of peri-implantitis consists of two phases:
Non-surgical phase: the objective is to de-inflate the tissues.
Surgical phase: the objective is to access the surface of the implant that is contaminated by bacteria. This phase favors access to the surface for decontamination.
In more advanced cases, decontamination of the surface is very complicated. In these cases, the recommended therapeutic option will be to remove the implant.
When an implant with peri-implantitis is removed, a bone defect remains. When this bone defect is large, it is necessary to perform bone regeneration procedures to be able to place implants again.
Today, dental implants are the best solution to replace missing teeth. However, it is imperative to be compliant with maintenance appointments to avoid complications. At Clínica Noguerol, we have a personalized maintenance protocol for each patient depending on the periodontal risk.