FIRST VISIT TO CLÍNICA NOGUEROL
The first visit is one of the most important moments in any dental treatment. If well planned and adequate information is collected, all subsequent stages of care in the clinic will be more favorable.
This is what your first visit to Clínica Noguerol will be like:
We want to meet you, but first ask for an appointment!
In order to be able to serve you with the best dedication, you must make an appointment so that we can reserve your consultation time. You can do it by phone, through the form on this page or by coming to our facilities.
If you opt for the simplest way and call us, this will be our call:
We will request your personal information.

We will ask you the reason for the consultation.

We would like to hear the referral source from which you found us.
Once the introductions have been made, if you wish, we can tell you in the same call how your first consultation visit will be in a personalized way.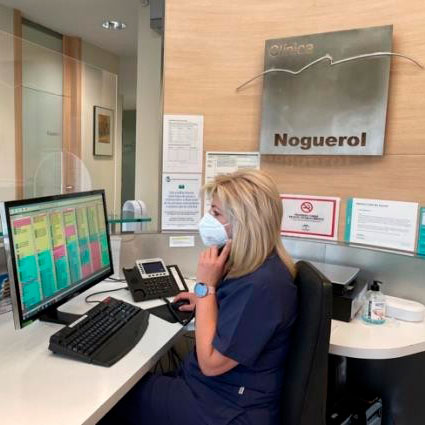 INFORMATION WE REQUEST FROM YOU
PERSONAL INFORMATION
Address, telephone, e-mail. They are very important to streamline communication between the patient and the clinic.
REASON FOR THE CONSULTATION
It will allow us to prepare the first visit protocol in a personalized way, adapting resources and time to your specific needs.
REFERENCE SOURCE
It helps us to give you personalized attention. Most of the patients in our clinic are family members and contacts.
INFORMATION WE PROVIDE YOU WITH
GENERAL OUTLINE OF THE STEPS OF THE VISIT,
including diagnostic tests.
EVERYTHING YOU WANT TO ASK US.
We will be able to solve any of your doubts.
Your arrival at the clinic
You will be greeted by a member of the reception team and taken to the waiting room to meet our information to meet with our person in charge of recording the information that will be information that will later be incorporated into your medical history.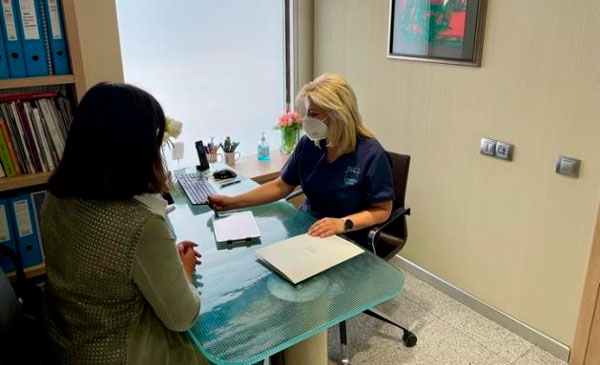 What will this first interview be like?
The data we will collect at this time are:
Reason

of first visit

Background

dental history of interest

Medical data
This information is very important to us, because without it we will not be able to provide you with a quality medical without it we will not be able toprovide you with a quality medical assessment. Previous treatments performed help us to better understand your previous dental experience. In this way, we can be more precise in proposing the treatment to be performed and theto be carried out andbetter control the existing risk factors.risk factors.
What does this first visit include? A 3-phase diagnosis
CARDIOVASCULAR RISK INDICATORS
We will record your blood pressure in order to detect certain factors that sometimes go unnoticed.
2. ORAL AND FACIAL PHOTOGRAPHIC REGISTRATION
We take these photographs in order to have information about your situation when you arrive at the clinic. Facial photography provides necessary information, especially in rehabilitation and aesthetic treatments.
3. RADIOGRAPHS
A panoramic X-ray is usually performed. Occasionally an additional X-ray such as a CT scan may be needed to see the bone in more detail.
Once we have completed the three diagnostic phases, you will be referred to the appropriate doctor to discuss your case.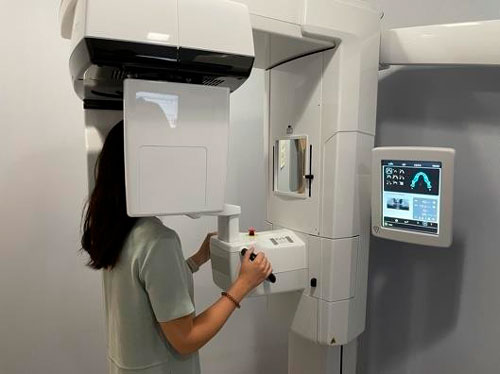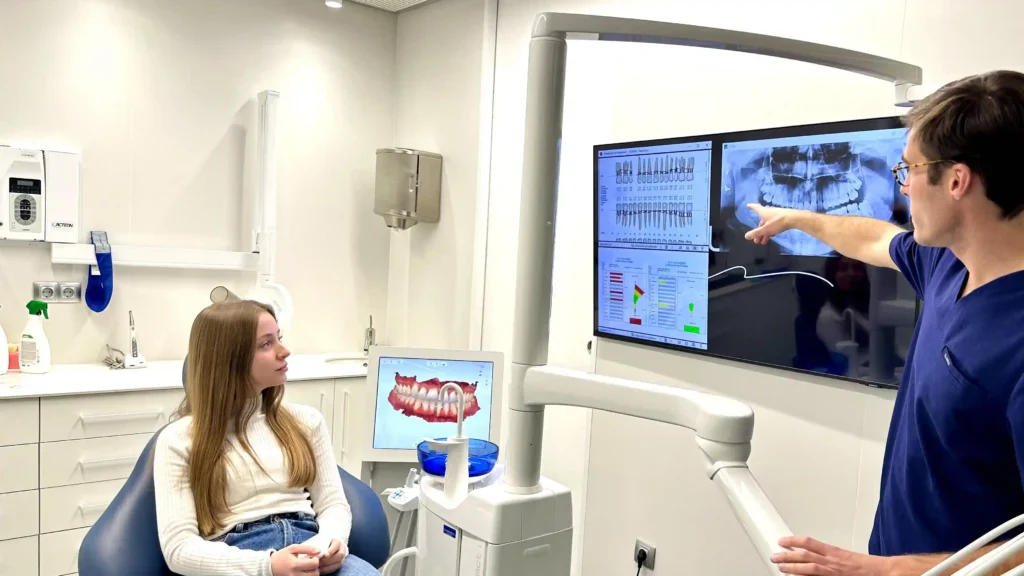 Direct consultation with the doctor
One of our doctors will listen attentively to what you need to tell him/her about your about your problem, ask you about your preferences and explain the diagnostic results. At this time, he/she will let you know the best treatment plan for you, the different possible alternatives and the elements to decide.
Even though your treatment will be explained to you in this first visit, you will be able to ask the doctor all your questions, you will be able to ask the doctor all your doubts to get a clear idea of your situation at any time.
Presentation of the Treatment Plan
Once the visit with the doctor is concluded, if you wish, you will be offered the treatment plan and the corresponding budget.
This first one-hour visit, with a 3-phase diagnosis and personalized consultation, costs approximately 60 euros, although this amount could be reduced in some cases:
Cases in which a Dr. refers you for a specific consultation.

Consultations of young people with few treatment needs and with a more preventive nature.

If you are referred by another dentist to continue maintenance.
In these exceptional cases, the consultation is greatly simplified and the duration is shorter.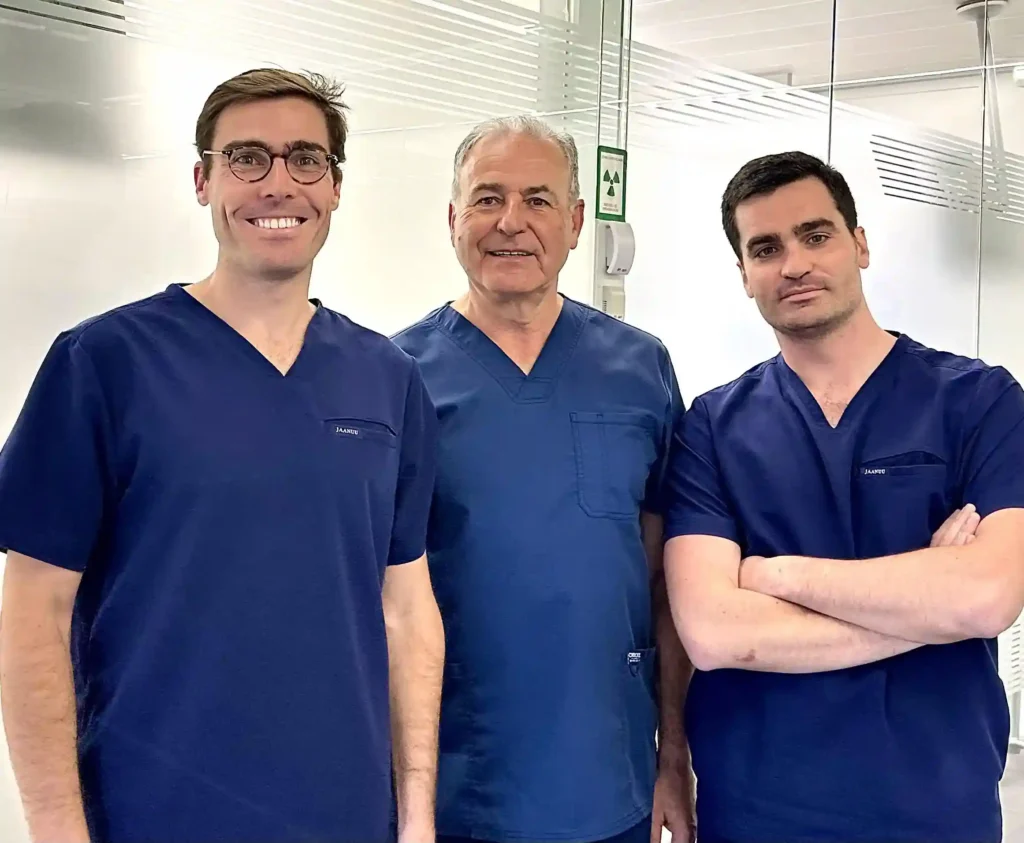 Request your First Appointment